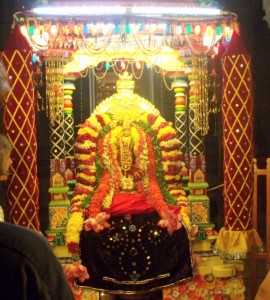 The grand festival of Navarathri has just begun. It is a time of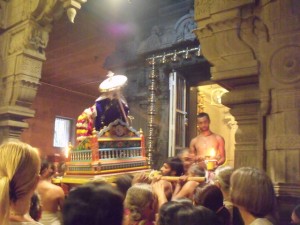 worshipping the Goddess Parvathi in all her different forms notably Durga, Lakshmi and Saraswathi. Navarathri is celebrated elaborately in the big temple of Arunachaleswara, in Ramanashram and Yogi Ram ashram as well as in a few Goddess Shakthi shrines on the girivalam. In some brahmin households, they hold a Golu which is an exhibition of statues of all the gods and goddesses of the hindu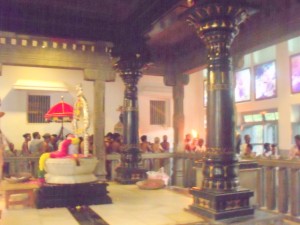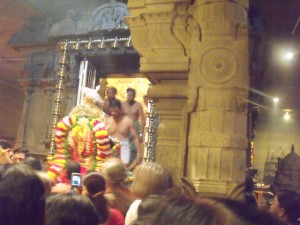 pantheon displayed according to mythological order on a range of wooden steps called the Golu padi which often number 5, 7 or 9. Children are usually on holidays at this time and take a lot of interest in this arrangement. They go about dressed as Radha or Krishna to participate in different Golus and sing bhajans in favour of the Goddess. The traditional prasad distributed is Sundal, a dish made of  many sorts of grams and pulses cooked and seasoned tastily.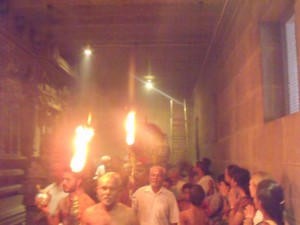 In Ramanashram, on the evening of Mahalya Amavasai, the goddess Yogambika was taken out of the Mother's shrine and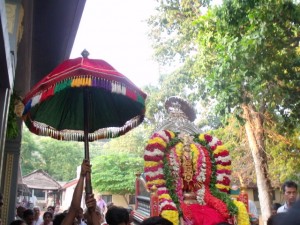 borne in procession around the shrine and the samadhi hall of Sri Ramana. Then She was borne outside to take darshan of Arunachala after which she was brought inside the Mothers shrine through the main entrance and installed in a splendidly decorated shrine right in front. Here she will stay for the next nine days and nights and be decorated differently each evening according to the legendary form that she chooses to manifest on that day. Hundreds of devotees throng the ashram already in eager anticipation of the next nine days.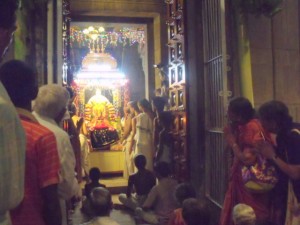 Navaratri is a festival of nine nights dedicated to the Goddess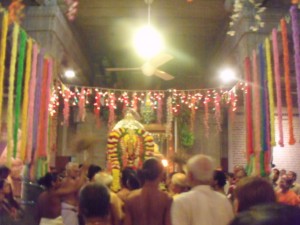 Shakthi (Parvathi or Amba) in her different manifestations. The legend of Navarathri starts with the penance of the Goddess on the slopes of Arunachala. Separated from her Lord (due to having playfully closed his eyes with her hands), the Goddess yearns to be reunited with Him. The great sage Guatama advises her to perform penance on the slopes of the holy
Hill Arunachala and accordingly she comes here and sits in Tapas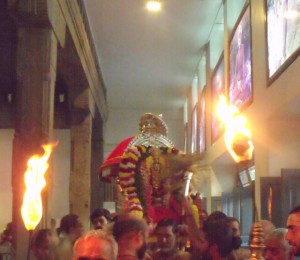 (penance). She follows the various scriptural injunctions and exhibits her devotion to the Lord in various ways. During the nine days of penance she manifests  herself each day in one of her different forms. On the tenth day she assumes a terrifying form of Mahishasura Mardhini, slayer of demons and vanquishes the evil demon Mahisha on the slopes of Arunachala. Thus this festival is of particular significance in Tiruvannamalai since it was here, millions of years ago that the first Navarathri actually happened.
---