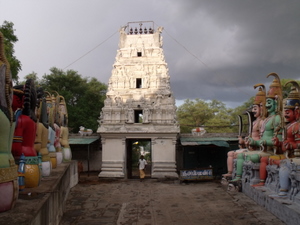 At the end of the inner giri pradakshina path as one approaches the town, one comes upon the ancient temple of the Goddess Pachaiyamman. This is where Bhagavan Ramana resided during the plague epidemic and this is where the tiger used to come and visit Him, announcing its arrival with two loud roars that would send the disciples fleeing in terror while Bhagavan remained undaunted and granted dharshan to the royal animal.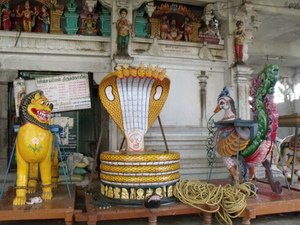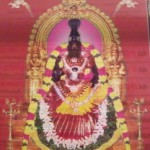 Goddess Pachaiyamman is a manifestation of Shakthi, and it is here that she is believed to have done tapas during puranic times to be united with Shiva in one form. It is believed that Shiva appeared here and integrated Her in the left half of His body and thus Lord Ardhanareeswara was created.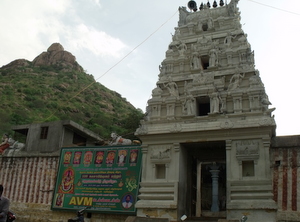 This temple is situated in an idyllic spot on the hill surrounded by beautiful old banyan trees where birds sing all day long and langur monkeys prance about. There are three perennial theerthams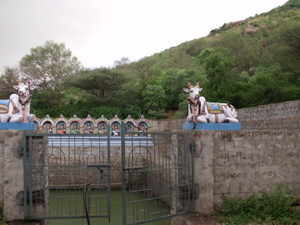 with lovely cool green waters and the water in the main one is used for the god's abhishekams. The entrance path to the temple is flagged by enormous Muniswara statues (tamil guardian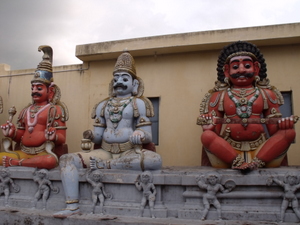 deities) and it is very impressive to see them gazing down upon you with their huge eyes as you walk inside.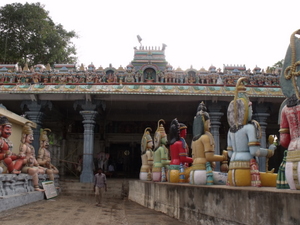 Inside the sanctum sanctorum, the Goddess sits in a benign attitude and you cannot but feel her compassion and grace flowing into your heart as you take dharshan. Pachai Amman means the Green Mother and she is named thus to signify her fertility and also because, according to legend, the Dharba grass which is usually yellow, turned completely green as she walked over it in her tapas.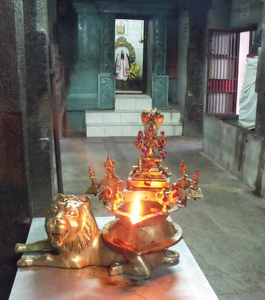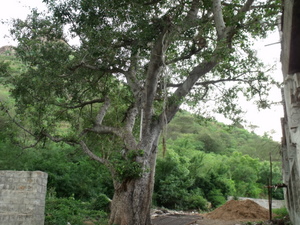 An inner giri pradakshina can be quite difficult as the hilly path is stony and hard. However, devotees feel well rewarded to come upon this temple after the arduous walk and take repose in the Green Mother's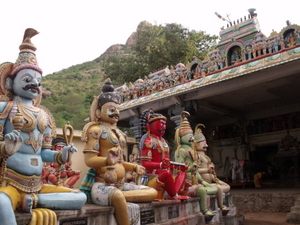 arms.
---